"The Profitable Product Detective"
How to Know What People Really Want to Buy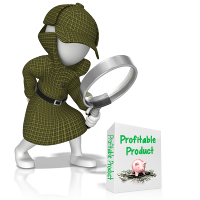 On this 2-part webinar series we'll cover how to spot holes in the market where you can jump in and profit quickly (either with your own products or affiliate offers).
You can use these techniques to find hidden opportunities in the market, see exactly what people love about the products they want to buy, and even see exactly what's missing from other products so you can fill that need!
Heck, I even show you how to use Amazon to gather virtually all of the product development intelligence you need to succeed!
In fact, here's just a sample of what we'll answer for you / cover on this incredible webinar series:
How to use Amazon to spot hidden opportunities in virtually any niche market
How to know what's missing from products so you can fill in the gaps with your own products
How to figure out WHY people are buying certain products (so you can plug your products into the same buyer motivation)
How to quickly spot the keywords BUYERS are actually using
NEW: Product Opportunity Worksheet
NEW: Product Opportunity Research Checklist
How to spot "BUYER" keywords, especially when you're inundated with market research data
Why your fortune can be found in other people's misfortune
Why the most valuable market research data in the world might just be in the negative product reviws found on Amazon
BONUS: I'm going to GIVE you a piece of software that compiles all the keywords BUYERS use AUTOMATICALLY!
... and much, MUCH More!
Don't miss this breakthrough webinar that will finally put your market research and product research on steroids FAST so you can find your sweet spot, no matter which niche you're in.

Super Keyword Scraper
Right Click Here To Download "Super Keyword Scraper"
Warning: Do not uncheck the "Enable Slow Mode" box because you may be personallyresponsible for making this software no longer work.