"Your Daily Marketing Checklist"
What you should be working on every day to market your business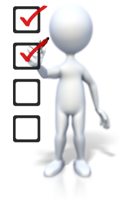 On this members' only webinar we'll cover how to get maximum marketing bang for your time and money.
You can use these techniques to know what to spend your time on to get results, see what you need to AVOID doing at all costs, and even understand how to balance your time no matter how busy you are!
Heck, I even show you the exact tools and strategies I use to keep my marketing machine moving forward!
In fact, here's just a sample of what we'll answer for you / cover on this incredible webinar:
The tools I use to get things done
How I organize my day now to make sure the most important marketing activity gets done every day
The organizational strategies I use to stay on track
What you should be doing every day and every week if you're just getting started
Where you should spend your time if your business is already up, running, and successful
The main time traps you must avoid, especially if you're strapped for time
The "productivity myth" that paralyzes most people
A cool tip I picked up from a Navy SEAL to instantly get my energy level back up and increase my productivity so I can apply it to my marketing
What to do if you're "stuck" in your marketing and nothing is working
The #1 thing you can do to put your marketing on steroids, especially if you're in a rut or you haven't gotten started yet
... and much, MUCH More!
Don't miss this breakthrough webinar that will finally put your marketing on the fast track and help you know exactly what you should be doing to promote your business at any given moment... no matter what you sell, who you sell it to, or how new or experienced you are.