Here are 29 ways to leverage interview content to profit in your digital marketing and online business.
Interviews are like the "swiss army knife" of content creation and content marketing.
Use this list to help you brainstorm how you can use interviews in your situation (no matter which side of the microphone you're on).
Oh, and if you can add to the list, PLEASE DO in the comments below… would LOVE to help the list grow (and I'll give you credit in the list on this page if you come up with one I missed!) 🙂
29 Ways To Leverage Interviews For Profit…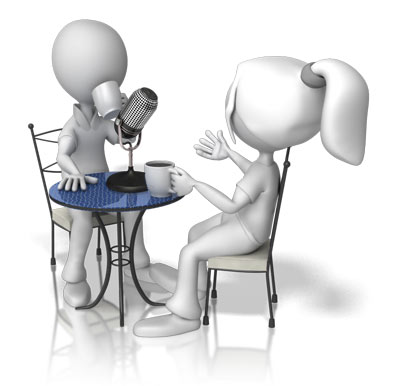 1.High-Dollar Info-products
2.Kindle Books
3.Ebooks
4.Print Books
5.Product Bonuses
6.Home Study Courses
7.Podcast Content
8.Blab Content
9.Blog Content
10.Membership Site Content
11.Special Reports
12.White Papers
13.Newsletters
14.Article Marketing
15.Autoresponder Content
16.Private Label Rights (PLR) Content
17.Facebook Content
18.LinkedIn Articles
19.Promote your book
20.Promote your coaching
21.Promote your speaking
22.Networking w/ Players in your niche
23.Audio CDs
24.Downloadable MP3s
25.Video DVDs
26.Streaming Video
27.Webinars (Paid or Free)
28.Teleseminars (Paid or Free)
29.Bonus Bribes to join your email list
… PLUS – these suggestions by readers 🙂
30. Lessons and stories for others to learn from (added by Alan Parker)
31. The "Halo Effect" of being associated with the experts themselves (added by Susan Cooper)
Again, use this list to help you brainstorm how you can apply interviews to whatever it is you're selling or promoting… everybody loves interviews. They're fun to do and easy to sell… no matter who your target market.
By the way, if you'd like to sell more, promote your books, and create incredible content using interviews, the "Expert Interview Wizard" helps you make everything you need to create, host and promote amazing, profitable interviews in just 3 to 5 minutes flat! Watch the demo here AND get a special price, but only for a limited time! http://InterviewWizardSpecial.com