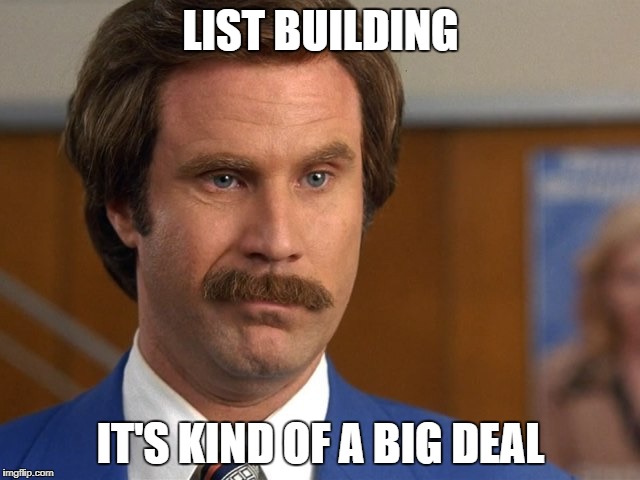 Want to build a huge responsive list? Here are 3 quick secrets you need to know.
Secret #1: Huge Promise Of An Immediate Payoff
The bottom line for online business owners with this secret is that the thing you offer to get people to sign up has to be a HUGE value AND it has to offer the promise of doing something super cool for them almost instantly.
What's most important about this is that if you don't promise an immediate result, the vast majority of people won't even bother to sign up for what you offer.
Online business owners need to understand this secret spells the difference between success and failure because the vast majority of people who sign up for free stuff never use it, open it, or even watch it. It's as if the ACT of signing up scratches their itch enough to make them move on to the next thing.
My suggestion to you now is to think about what is the biggest payoff someone in your target audience wants and how could you instantly move them one solid step closer to that result. The method / tool / resource etc. for that single concrete step they can get an instant result from should be what you offer them in exchange for their opting into your list.
Secret #2: Lead To The Next Logical Step
The core idea with this is whatever you offer for them to sign up should create a slippery slope to the next logical step in the process.
So, here's what this really means: you're leading them on a journey, not just getting them to "sign up" for something.
This is key for everyone because it's actually really easy to get people to sign up for something. Offer them a template or a blueprint and they'll sign up in high numbers with amazing optin rates. The real challenge is to keep them moving through your funnel, which requires you to automatically lead them to the next step with no resistance.
So the next step for you here is to draw out your sales process not as a mechanical map (optin page / sales page / upsell, etc.) but as a series of ideas. For example: 1. Optin Page Blueprint (Big picture) 2. Optin Page Templates (specific tools, but manual) 3. Optin Page Funnel Script Software to make the pages for you. This takes someone from the idea of an optin page (free) to specific templates (optin bribe) to a paid product (software). It's like a conversation or logical progression inside someone's head.
Secret #3: Follow Up With Massive Value That Leads Back To Your Solution
What online business owners need to understand about this secret is that most people either NEVER follow up with those who opt in, or they SPAM the crap out of them with pitch after pitch.
The most important thing to get with this is when you follow up correctly and systematically, you can turn a much higher percentage of those people who join your list into sales.
Don't neglect this because if you don't follow up, you're leaving at least 50% or more of your potential profits on the table (I tell you this from personal experience).
My advice at this point is to map out how you'll follow up with the people who join your list. Master the techniques of providing value without "giving away the farm" but always make people feel like they got value from you and leave them wanting more..
What don't your competitors want you to know? That's simple. It's these 3 secrets! So simple you can't help but achieve the dream of every online business owner, which is to build a huge responsive list without having to spend 18 hours a day marketing.
Oh, before I forget, if you liked this article, you'll LOVE this amazing new software we've released that, among other things, helps you build a huge responsive list. It's called "Funnel Scripts" and you can grab it here: https://FunnelScripts.com or https://FunnelScripts.com/go/