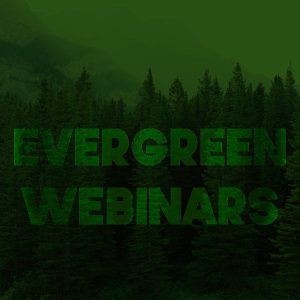 Evergreen or not to Evergreen? That is the question!
When it comes to webinars the "holy grail" is to be able to take your webinar and turn it into an evergreen presentation that makes you money 24/7/365!
All the experts who sell webinar software admit that converting to evergreen is easy and won't take hardly any time whatsoever. 
I'm here to tell you that creating an evergreen webinar that works can be tough. 
The reason it's tough to go evergreen is because of all the reasons why LIVE webinars work. 
Interaction is one of the keys that makes a webinar work great. Why? Because people get a chance to ask questions, get acknowledged, and feel like they're getting the most up to date information. 
Another reason why webinars work well live is because the presenter can adjust on the fly based on audience reactions and questions. 
Finally, when doing a webinar live, there's the inherent need to sign up and attend because the live webinar has a deadline. 
Conversely, with an evergreen webinar, you're pretty much asking somebody to watch a video embedded in a page. 
Despite all of the great systems out there that purport to do evergreen webinars (with all the bells and whistles), in the end, all you're doing is asking somebody to watch a video embedded in a page. 
All the cool stuff that goes along with a webinar done live is not present:
Interactivity

Ability to ask questions

Timeliness
…  all of that is nonexistent with an evergreen webinar.
Yes, you can play games with deadlines and scripts and apps and things like that, but ultimately, an evergreen webinar is just a video embedded on a page. 
With that said, if you can create a promise for your "webinar" video that is so compelling and so urgent that nobody cares if it's a video embedded in a page, then you have an excellent chance to create an evergreen webinar that can run for years on autopilot. 
For example, we have done this with the Funnel Scripts webinar that runs on funnelscripts.com. 
It has run for years and years and generated 10s of millions of dollars in sales. Why? Because it is so compelling in the promise it makes to get people to sign up that people don't care that it's just a video embedded in a page. 
So the key to making evergreen webinars work is not the fancy technology behind running a webinar on autopilot. 
It comes down to making an amazing promise that is timeless and motivates people to sign up without all the extra add-ons of fake deadlines, gimmicks, and tricks of simulated live events.
Bottom line, the key to making an evergreen webinar take off is the sales copy, not the fact that it's a "webinar!"
By the way, if you want to live the dream of having a successful evergreen webinar, focus a whole lot more attention on a great promise, a great title, a great hook, and a great outcome from the webinar!
Do that and people will beat a path to your door to watch your video embedded in a page… er, I mean watch your evergreen webinar 😉. 
By the way, if you'd like to know how to create the kind of sales copy that actually works for evergreen webinars like nobody's business, check out this amazing free training we have for you at https://fillmywebinarsecrets.com/
---
Did you miss the live training? Don't miss out on the replay!
Let Us Show You How To 'Pack the House' On Your Next Webclass, Training, Workshop, Summit, Facebook LIVE, Coaching Event, or Sales Presentation
We'll show you how to fill your webinar, zoom, or online event without spending a fortune or wasting weeks struggling to write emails, headlines, video scripts, promo copy, or ad hooks!
Get hordes of Signups and Showups when you nail this one thing
Make Sales BEFORE your webinar even starts
Attract Your IDEAL Customers like a kid to a Snickers Bar
​Avoid the 'Kiss of Death' that most webinar promoters constantly make
​Deliver the Right ______ to the Right _____ so you can smash attendance records
​Fill Your Webinar WITHOUT having a single person on your list
​Save 127 Hours and $23,000 promoting your webinar
​Create Your Entire Promo Campaign in just 90 minutes
Finally ​Say Goodbye to hiring a copywriter ("Bye, copywriter!")