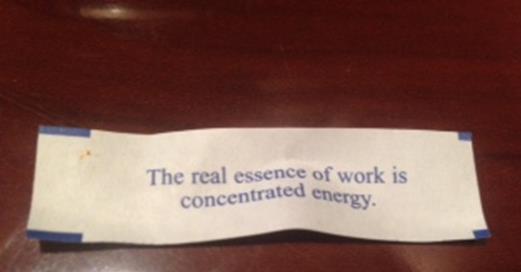 "The real essence of work is concentrated energy"
Most of us are too fractured.
Our days are divided into little bits and pieces of trying to get too many things done and never completing anything to any great degree.
Why do we have so many things going?
A lot reasons.
Fear.
Fear that one thing alone won't work, so we get a bunch of irons in the fire in the hopes that one will work out really well.
Excitement.
Lots to choose from. Don't want to miss out on a great opportunity.
Lack of purpose.
We don't have a clearly defined purpose, so we fall prey to the whims of others, or fate, or circumstance.
Whatever the reason, if you're fractured, you're screwed.
The way to succeed is to find the one thing you can really wrap your head around AND, more importantly, wrap your heart around.
If you love it (whatever "it" is), you'll experience more joy, more excitement, more satisfaction, more focus, and more success than you will by any other means.
"The real essence of work is concentrated energy" and the only way to concentrate your energy consistently in your work is to LOVE your work.
If you don't love it, do something else.
Life is too short to live any other way. 😉
————-
What do you think?
Share your thoughts in the comments below 🙂