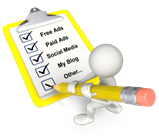 If you want to create "list" articles for promoting your business, product, or ebook, here's a checklist to help guide you through the process so you don't miss any steps.
List articles are about the easiest type of articles to write and people LOVE them!
You can literally check off each step in the process and, as long as you don't clear your cookies, when you come back it will show you where you left off on this checklist.
---
List Article Creation Checklist
---
[frontend-checklist name="List Article Creation Checklist New"]

[frontend-checklist name="List Article Creation Checklist New" type="pdf" title="List Article Creation Checklist" linktext="Click Here for printable PDF of This Checklist"]