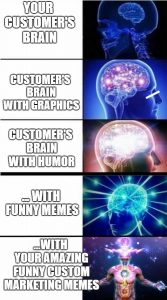 In a nutshell, ImgFlip online meme maker software gives you the keys to easily create amazing memes super fast, without having to hire a graphics person or buy any specialized software. You literally just click a few links, whack a button, and you have a cool custom meme.
ImgFlip.com is a combination of graphic repository and text editor that makes it super easy for you to add strategic text to images you find on the site or your own images you upload.
ImgFlip is a wonderful option because there is so much noise on social media right now. We know that a good graphic stops people from scrolling. But did you know recent research tells us that a great meme is 300% more likely to attract attention compared to a simple graphic or photo? YEP, it's true! Plus, the site is just plain fun to use!
Here's the big payoff for you: this allows you to create scroll-stopping marketing memes with strategic text. And, you can make memes and variations of memes so fast that you can also test multiple ideas very quickly.
What makes this online meme maker software truly stand out is the fact that you need absolutely no skill whatsoever to use it! Seriously, no experience necessary to start turning out great memes super fast, even if you've never made one before.
Also, this online meme maker is much more robust than anything else I've ever tried for making memes. Plus, they give you access to a ton of proven meme images and pictures you can use to give your memes an instant kickstart. Also, their search feature makes it super simple to find just the right images.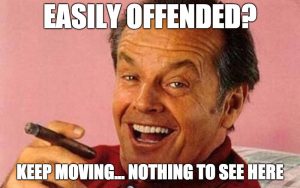 By the way, ImgFlip is not for anyone who doesn't have a sense of humor (along with the people who say "This won't work for my business." or "I have a serious business!"). If you are easily offended, keep moving… nothing to see here 🙂
ImgFlip is for marketers who want to stand out from the crowd with eye-catching memes and also have fun in the process of marketing their business.
What I love most is the fact that I can use memes on everything! I use memes on webinar slides, social media posts, and more. The other thing I love is the reaction of my audience because they laugh and focus on my other content more because of it.
One thing I do want to point out is there are some things I can't find on there. Sometimes there is an actor, or a scene, or a band or some other thing I can't find in their search engine. However, if you can't find a picture on the site, you can always upload your own images or graphics. So, if you find an image on a royalty-free site (like Pixabay.com), or take a picture with your camera, you can upload the graphic and turn it into a meme… no problem.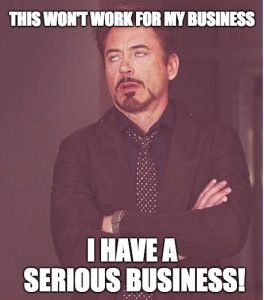 I plan to use ImgFlip to just keep adding visual spice to everything I do. For Facebook, Instagram, my blog, and even webinars, you just can't beat it. It's fast, simple, and easy to use.
It might surprise you that ImgFlip is free (though there is a paid option for $3 a month).
When you compare this online meme maker software to hiring a graphic artist or using PhotoShop to create memes, this is a total no-brainer. It truly is the easy button for making memes fast.
You should definitely try this online meme maker software because the internet is only getting more crowded. This is a quick and easy way to instantly separate yourself from all the competition in your niche.
For more information go to https://imgflip.com and start using it now for free (no registration required)