Here's the checklist that will help you run a final polishing pass on your PowerPoint Videos to make sure you're not only making a great presentation, but you're also hitting the right hot buttons so people will take the actions you want as a result of watching your videos.
NOTE: You can literally check off each step in the process below and, as long as you don't clear your cookies, when you come back it will show you where you left off on this checklist.
---
PPT Video Final Polishing Pass Checklist (7 of 8)
---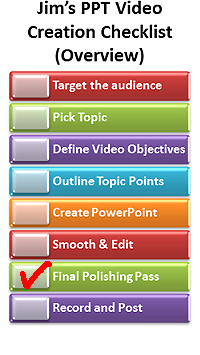 Click Here for printable PDF of This Checklist
Want more? Let me know in the comments below!