A Note From Jim
Here's something new!
We're gearing up to provide you with a ton of new content in 2018, so I've decided a weekly update would be the perfect way to make sure you don't miss a thing.
Let me know what you think by posting a comment below.
And just to set the stage for having fun with online marketing, here's a marketing meme I published this week on Facebook for authors.
Click Here (you can see it even if you don't have a Facebook account)
What Happened?
Here's a quick tip on the blog you might have missed about the mistakes people make with sales copy bullets. It's titled:
"If You Want To Sell More… You Gotta "Kill The Cat!" With a Boiling Teapot!"
Read it here: https://thejimedwardsmethod.com/3-copywriting-bullet-mistakes/
What Now?
We're sprucing things up for The Jim Edwards Method. Have a look at our new header for the website. What do you think? Tell us in the comments below 🙂
What's Next?
We have a big training coming up on Wednesday for my private membership on how to do advanced Facebook live techniques, including PowerPoint, green screen and screen overlays.
The Jim Edwards Method Premium membership is now closed, but we'll be opening the doors up again soon. So watch this space for how you can join early.
This Week's Spotlight
This week's spotlight is on the 3 Hour Kindle Book Wizard. If you're a non-fiction author and you want create Kindle books FAST, this is the must-have tool for you!
3 Hour Kindle Book Wizard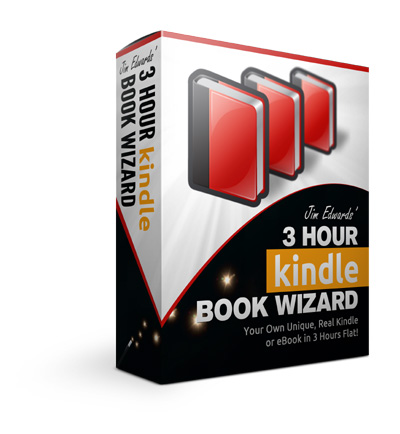 How to create and publish real, original, and valuable non-fiction Kindle books with LESS than 3 hours of total effort!
As this week's spotlighted product, you get a 50% off coupon!
When you click on the purchase button, make sure to enter the coupon update50 in Step 2 where it asks for a coupon. Click Apply to see your instant savings!
Grab your copy today before the coupon expires!