"Once upon a time, only certain people were in sales. Every day, these folks sold stuff, the rest of us did stuff, and everyone was happy. One day, the world began to change. More of us started working for ourselves-and because we were entrepreneurs, suddenly we became salespeople, too."
– Daniel Pink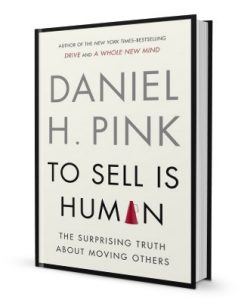 This quote / excerpt is by Dan Pink from his book, "To Sell Is Human: The Surprising Truth About Moving Others."
About Dan Pink:
• He is an author who writes very well about topics like selling, influence, biorhtyms and more
• He often demolishes conventional thinking and brings out surprising new conclusions that fly in the face of conventional wisdom.
The big idea here is if you want other people to send you money for anything (books, software, services, ideas, speaking, ecomm, or anything else), then reaching your goals means persuading people to take the right actions.
Bottom line: Your success is tied directly to your ability to sell.
Here's how this applies to us and learning to sell:
• Most of us will not make our living going door to door selling our stuff.
• We will do it through email, social media, sales funnels, and websites.
• We'll never get belly to belly with our ideal customers.
• Because we'll never meet these people we want to buy from us, we have to get really good at putting words on pages and in videos that get people to buy, try, sign up, or call us on the phone.
• That means getting really good at something called "sales copy" — otherwise known as "salesmanship in print."
• And the good news is, learning sales copy can be fast and simple .. no matter what you sell.
So, let's put this into action:
• Focus on learning the templates and blueprints proven to work in any industry. (Sales copy is not like high school English were you are rewarded for originality! Great sales copy leaves clues and patterns you can use fast.)
• Get really good at grabbing the right people's attention with your headlines — that's the single most valuable sales copy skill you can develop — no matter what you sell. (A great headline with crappy copy will always outperform a crappy headline with great copy)
• Become a student of "remote selling" or "auto—pilot selling" — selling people without actually meeting them in person.
Hey, by the way…
If you're a entrepreneur who is genuinely interested in how to make this even easier, may I suggest that you get a free copy of my book, Copywriting Secrets: How everyone can use the power of words to Get More Clicks, Sales, and Profits… no matter what you sell or who you sell it to! at CopywritingSecrets.com and just pay a small shipping fee – we'll rush your copy right out to you!. This makes it easy for you to sell a lot more of whatever you sell without having to morphing into a cheezy, sleazy, manipulative salesman.
---
DON'T BUY "Traffic Secrets" Until You See This…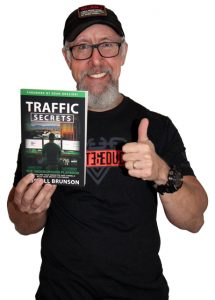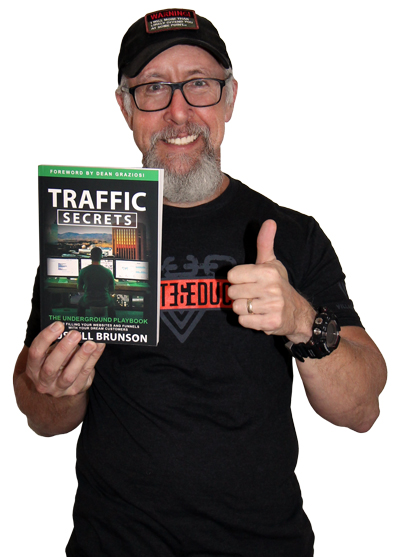 Russell Brunson's new book "Traffic Secrets" is going to be a major best seller that will change your life and business forever…
BUT…
Don't buy or preorder it (not available for pre-order until March 17) without checking out my INSANE BONUSES for buying through my affiliate link!
Get on MY pre-launch list now…. we're going to give you over $8,979 worth of bonsues FREE when you buy through me.
Join Jim's pre-launch list by entering your email at the site below to find out how to get over $8,979 in exclusive bonuses for grabbing your copy of "Traffic Secrets" through Jim's affiliate offer!
Click Here => https://www.insanebonuses.com/
---
Join us on Facebook • Instagram • Twitter • LinkedIn • Medium • Podcast