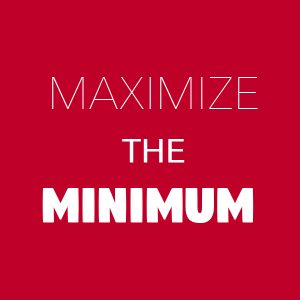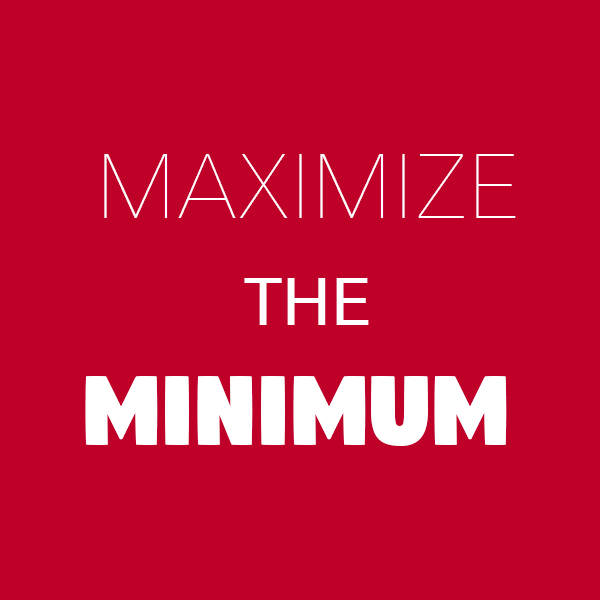 Have you ever had one of those days when you had WAY too much to do?
Like 17 hours of work that you need to finish in 23 minutes?
You end up cutting out a lot of fluff to get to the most important "core" things…
But even then, you only have time to do the minimum.
Most people think that doing the minimum is a bad thing. 
(And, if you barely do the minimum, you're absolutely right.)
But if you "maximize the minimum," then you're actually doing something worthwhile. 
What Do You Maximize?
When I say "maximize the minimum," it means do the very best you can whenever you do anything, even if it's something that you might think,"It doesn't really matter." 
It does matter.
A maximized 100-word post will always beat a 500-word post that you just kinda throw up there because you "needed to do it."
If you only have time to do a two-minute video, then maximize that two-minute video. 
Make it the best video you've ever made. 
If you only have five minutes to write a blog post, then maximize those five minutes. 
Write the absolute best you can. 

Make sure you have an attention-grabbing headline.

Make sure you've got amazing content.

Make sure you direct people with an effective call to action.
In Real Life
I remember a day a while back where all my plans went wrong before 7:00 am. I was already super, super busy with a ton of stuff going on, but at the last minute I had to: 
Drop my grandson off at school (long drive).

Make a bunch of quick start videos.

Make tons of demo videos for Funnel Scripts.

Fix a technical problem at the house.

And lots of other things.
And I said to myself, 
"It's a maximize the minimum day."
So, I reviewed my big list of tasks…
Picked out the ones I absolutely had to do…
Maximized everything…
And had a very productive and successful day.
Conclusion
If you do anything, even if it's something short and quick, do it with your personality. Do it with all the force of your creativity, and you will create something amazing. If you do that, you'll have an impact (and you'd much rather do something for 30 seconds that has an amazing impact than something that takes you an hour and falls flat).
If you're interested in other ways I'm able to maximize the minimum, check out https://thejimedwardsmethod.com/joinjim/ 
---
Join us on Facebook • Instagram • Twitter • LinkedIn • Medium • Podcast