From the desk of Jim Edwards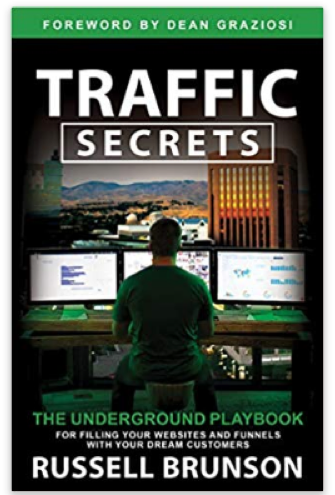 RE: Traffic Secrets
Full disclosure: I received a review copy of "Traffic Secrets" for free and have read it twice.
In a nutshell, "Traffic Secrets" gives you the keys to put targeted eyeballs on your offers, no matter what you sell. Software, coaching, books, courses, supplements, or ecommerce products, this book will show you how to get the right people to show up and see what you've got.
The author of "Traffic Secrets", Russell Brunson, is someone who has been around the Internet and online business almost for as long as I have. Russell is really good at making offers and driving traffic to get a ton of people to see his offers.
You want this book because there is no problem in your business that can't be solved by having more traffic.
Need more sales? Drive more traffic.
Need more subscribers? Drive more traffic.
Need more leads? Drive more traffic.
Need more revenue? Drive more traffic!
In the end, it addresses all phases of driving traffic, including "back-end funnels" – which are something most people neglect. Driving traffic isn't just about Facebook ads… it's so much more than that
What makes "Traffic Secrets" special as opposed to other books is it does NOT go down rabbit holes of gimmicks to get traffic. You may or may not remember "smart pages" or "blog and ping" or "IP redirects" used to spoof the search engines. Those were all "black hat" spoofs that worked for a little while, but then quickly stopped working when everyone started doing them.
With Russell's "Traffic Secrets" book, there's none of that! These techniques work no matter what.
Something incredible this book does that you might not recognize at first is, unlike black hat techniques that lose their effectiveness once more than a few people use them, the principles Russell reveals inside of this book will actually work BETTER the more people use them.
The higher quality your content, the better your hooks, the better your follow up funnels, the better you'll do, no matter what "bright shiny object" the rest of the market is chasing.
On a side note, "Traffic Secrets" is not for people who want to use gimmicks to try to spoof the search engines or manipulate the Facebook algorithm based on some loophole that promises instant riches.
"Traffic Secrets" is for anyone with something to sell! No matter what you do online, if your success depends on people coming to your website or funnel to buy, try, or sign up – you need Traffic Secrets.
The thing I love most about it is the step by step approach it takes to teaching you how to get traffic. It follows the model of "teach a man to fish and you feed him for a lifetime!" This book will teach you how to get traffic no matter what the changes in rules or algorithms or slaps or shakeups.
One thing I do want to point out is I wish there had been a little more information in the book on specifics for implementation… almost like a "to do" list once you've been through the book that would tell you what to do to get results.
That's not a deal killer because I actually found on the website where Russell gives away the book if you just pay shipping and handling, one of the bonuses is a "30 Day Traffic Secrets Challenge!" This free bonus will give you a day by day roadmap to follow to get you from where you are today, to where you want to be. You get his roadmap for free when you order from the website (NOT from Amazon).
I'm using "Traffic Secrets" to immediately start driving traffic with follow up funnels to maximize the people I already have in my tribe, rather than focusing solely on trying to get new people into my funnels. I think that is the single most valuable thing I can do right now, though I also plan to get a LOT more traffic in the front end of my funnels too!
The good news for you is "Traffic Secrets" is less than 10 bucks to cover the cost of shipping and handling.
Make sure you grab the book from the site rather than preordering on Amazon for $25 bucks because you won't get any of the bonuses (or get the opportunity to grab the audio book version that is available for immediate download).
You should definitely grab "Traffic Secrets" now because not only can you get Russell's bonuses, but I'll give you some amazing bonuses as well, including:
BONUS #1 – Pick Of Jim's Personal Wizards (Value: $497)
BONUS #2 – Video Sales Letter (VSL) Sales Copy Challenge (May 4-8, 2020) (Value: $2,496)
BONUS #3 – 2CCX Bootleg Story Training (Value: $497)
BONUS #4 – "Killer Sales Copy Elements" Creating Sales Copy That Actually Sells… FAST! (Value: $497)
BONUS #5 – "Landing Page Secrets" How To Get The BEST Results From Every Landing Page You Create (Value: $1,997)
BONUS #6 – "What I Do In One Sentence" Hook Wizard And Training (Value: $997)
BONUS #7 – Product Creation Workshop (Value: $1,997)
BONUS #8 – Webinar Mastermind: "My 10 Biggest Takeaways, Lessons Learned, And A-Ha's From The Traffic Secrets Book" (LIVE April 3, 2020) (Value: $497)
BONUS #9 – FREE Ticket For 2- The Jim Boat 9 "Make Even More Sales Millionaire Mastermind" Cruise (November 7, 2020) (Value: $1,997).
For more information and to preorder your copy of the most important book about traffic ever written, check out my bonuses page at https://www.insanebonuses.com/ to get all the details. Make sure you click the button on the page to go claim your copy of "Traffic Secrets" through my link so you can get all my amazing bonuses with purchase!
---
Join us on Facebook • Instagram • Twitter • LinkedIn • Medium • Podcast