A Note From Jim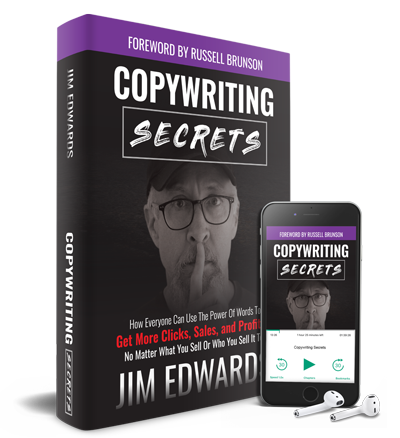 When Is Enough, Enough?
Interesting thing happened recently while I was doing my quick morning video and gave a tip from my book "Copywriting Secrets".
I reminded people they could get a copy for free if they don't have one yet… and I gave the page number to reference for those who already have a copy. (You do have your copy, right?)
I had someone live on Facebook say, "Stop pitching me the book, I already own it!"
I thought to myself, "Okay, that's great… but have you USED it yet?"
You see, when we sell a product or service, we have to make two different pitches.
Pitch #1 – buy the product.
Pitch #2 – USE the product.
Many people will tell you it's up to the buyer to use it. Once the sale is made, "Not my problem!"
That's very short-sighted! If you want people to buy from you again consistently. You must help them get results from what they already bought so they're eager to buy more.
So don't be afraid to re-pitch people in a way that encourages them to get a result with what they already bought.
The majority will thank you for it… and you can ignore the occasional smarty pants who tells you not to do it.
You have my permission 🙂
Jim
---

You're invited to a very special event!
Join Jim Edwards for an online book launch! Spend 60 minutes with Jim Edwards and Kary Oberbrunner as they discuss Jim's inspiring book and concept!
Register and tune in to our Livestream Book Launch on December 12, and your name will be entered into a draw for a chance to win one of three prizes below! No purchase is required.
Everyone wins! Register now and receive a free gift on December 12 during the broadcast.
---
Did You Miss This?

Do you sometimes get stuck because you just can't get yourself to do what you know you SHOULD be doing?
How do you get past the inertia and light a fire under your butt again? That's what this 5-minute article will help you do, and fast!
Go to the blog now to learn my secret
---
The Jim Edwards Method Premium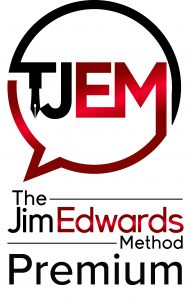 It's the best kept secret on the web! (Doors Are OPEN!)
The Jim Edwards Method Premium:
Get Instant Access to ALL My Personal Software, All My Personal Wizards, Over a Decade of Online Business Training AND Monthly Live Training with Q&A!
right now you can get ALL my stuff for just $97 a month… or $997 per year.
Get all the details about how you can access my entire vault, all my wizards, and get a NEW, LIVE training from me every month for less per day than the cost of a latte at Starbucks.
---
Letting The Chickens Out with Jim
Every week Jim goes live on Facebook and posts his morning tips while letting the chickens out.
Need your thoughts / ideas please
The wrong way to ask for testimonials… especially for a new product…
The question on everybody's mind…
---
Sales Copywriting & Content Marketing Hacks Podcast Recap
We help entrepreneurs sell more with less effort and less stress… no matter what you sell! We cover topics on sales copy, content marketing, advertising, website sales letters, email marketing, headlines, ad writing and more.
WARNING: we are not here to teach copywriters the finer points of copywriting… we're here to make it easy for normal people to use words and pictures to make more sales and get results. And, we have a lot of fun doing it!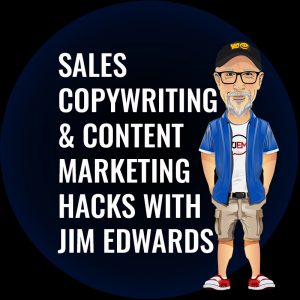 Where to Start? Welcome to TJEM – SCCMH [Podcast 49]

Facebook Live – Preparing for Black Friday and Other Big Holiday / Seasonal Sales – SCCMH [Podcast 48]
The Power of Headlines (Foul Play Suspected) – SCCMH [Podcast 47]
---
Cuteness Overload – The Puppy Update
As you may have heard, Jim and Terri have added four furry little girls to their family. We will share the cuteness with all of you here with a weekly puppy picture so that you can watch them grow along with us.