A Note From Jim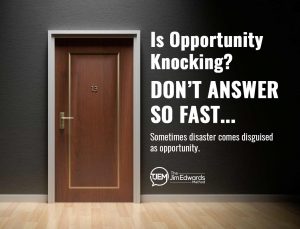 When Opportunity Knocks… Don't Rush To Open
When opportunity knocks, most people think you need to throw the door open and let Opportunity walk right inside the house.
Not so fast!
Sometimes disaster comes disguised as opportunity… especially if you're already knee-deep in an existing opportunity.
This is where bright-shiny object syndrome can come into play.
That new opportunity hits your email inbox and you're all in man… until you realize it's just a giant time suck and you've frittered away hours of valuable time.
You can also fall into a "the grass is always greener" situation where you think that the new opportunity is better than the current one… it often isn't.
On the flip side, opportunity can knock and you better let it in before it hits the next house down the street.
So how do you know the difference?
Sometimes you have to go with your gut.
Does it feel like you should go with this new opportunity, even if you're already doing something else that's working really well?
Sometimes you go with experience.
Have I done well with this person, company, etc. in the past and does the potential reward outweigh the risks?
In the end, only you can decide.
Listen to your gut… look at the facts… make your best decision and then stick with it.
Opportunity may knock infrequently… so just be ready to make a decision when it does.
Jim
---

---
Featured Article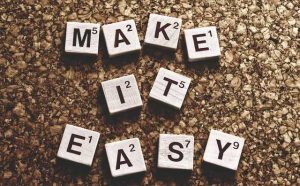 Do you love to invent new things? I used to love to do that too! But I learned that there's a better way to come up with new ideas AND make it a lot more profitable (with less work).
Click here to see my discovery
---
Letting The Chickens Out with Jim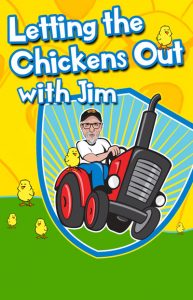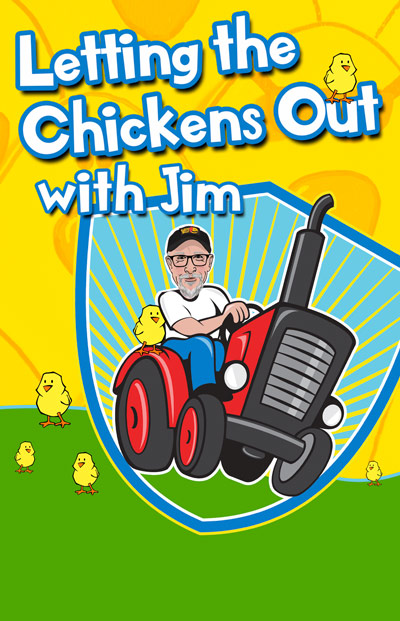 Every week Jim goes live on Facebook and posts his morning tips while letting the chickens out.
Are you getting the short end of the deal?
Can you be successful and still be a failure?
Does "paying it forward" really work?
Trying something new? Do this to avoid time suck!
Covidacation Ideas – Things To Do While In Quarantine to simulate a vacation
---
Sales Copywriting & Content Marketing Hacks Podcast Recap
We help entrepreneurs sell more with less effort and less stress… no matter what you sell! We cover topics on sales copy, content marketing, advertising, website sales letters, email marketing, headlines, ad writing and more.
WARNING: we are not here to teach copywriters the finer points of copywriting… we're here to make it easy for normal people to use words and pictures to make more sales and get results. And, we have a lot of fun doing it!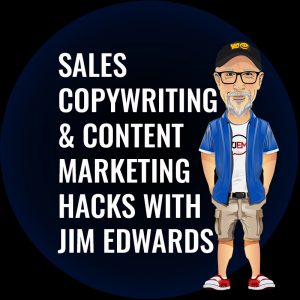 Advertising / Funnel Fix with Punchy Jim – SCCMH [Podcast 76]
Titles and Headlines Wizard Walk Through – SCCMH [Podcast 75]
Free Book Offer – SCCMH [Podcast 74]
Salescopy Too Long & New Habits Created – SCCMH [Podcast 73]
To watch more episodes Click Here!
---
Join us on Facebook • Instagram • Twitter • LinkedIn • Medium • Podcast